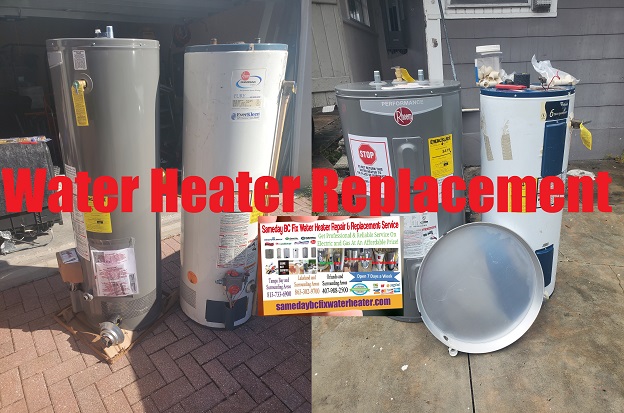 hot water heater replacement service company Electric Water Heater Replacement Service: Get It Done Right the First Time by Same-Day BC Fix Hot Water Heater Replace or drain drip pan Installation cost company Near me who can replacing electric or gas tank or tankless hot water heater and help you get hot water again by our local specialist technician repairman at an affordable price. If you're experiencing issues with your tank water heater or considering an upgrade to a tankless water heater, our knowledgeable team can handle all types of water heater services. Give Us A call for faster service in the following areas: Orlando, Orange County, Sanford, Seminole County, Kissimmee, Osceola County, Clermont, Lake County 407-988-2500, Lakeland, Winter Haven, Polk County, Sebring, Avon Park, Highland County, 863-302-9700, Tampa, Brandon, Hillsborough County, St Pete, Clearwater, Pinellas County, Wesley Chapel, New Port Richey, Pasco County, FL 813-733-6900
We are knowledgeable and the best repairman you can find to who do you call for emergency Hot Water Heater Repair or Replace service by someone or company in central, Florida in my area around you to find out how much does it cost to repair or replace a hot water heaters. Our team can address a variety of issues, such as a leak in your water heater.
We Are open 7 days a week to find someone or a company who can fix or replacing at an affordable price on Saturday, Sunday weekend includes some holidays to serve you if your Water Heater is not working in your home services and business.
Making sure your electric water heater is working properly and safely is dependent on using qualified professionals. If you're seeking electric water heater replacement service, you want to make sure it gets done right the first time. You may not be aware that inferior workmanship or parts can lead to electric fires, carbon monoxide exposure, electric shock, and even water damage. With these dangers in mind, getting it done right the first time is essential.
That's why we've put together this handy blog post to explain the differences between electric water heater replacement services, and guide you towards making the best decision for your home. From selecting the correct size heater and placement, to understanding the differences between standard and tankless, we've got you covered. And with our no-risk, no-nonsense guarantee, you can rest assured that when you choose to replace your electric water heater with us, you're sure to get it done right – the first time!
Quick Answer
You can typically find electric water heater replacement services through local installation companies. Many of these companies offer information about their services and prices on their websites or by contacting them directly.
Here is the list of Best & Most Reliable Electric or Gas tank or tankless Water Heaters we can fix sameday around your area at an affordable price:
A.O. Smith water heater
Rheem hot water heater
Kenmore hot water heater
Bradford White hot water heater
American Standard hot water heater
American hot water heater
Bosch who do you call for hot water heater
EcoSmart hot water heater
Navien hot water heater
Noritz hot water heater
Reliance hot water heater
Rinnai hot water heater
Stiebel Eltron hot water heater
Takagi cost of hot water heater
Whirlpool hot water heater
General Electric hot water heater
Ruud electric hot water heater
Electric & Gas Water Heater Replacement Service
Electric and Gas water heater replacement services are becoming more and more important for a sustainable future. While gas and propane heaters still have their place in some homes, many property owners are opting to replace old models with electric ones. This is due in part to the potential cost savings on energy bills and environmental benefits of avoiding fossil fuel combustion. While it may be tempting to install an electric water heater yourself, working with a professional ensures that your new heater functions correctly and safely the first time. Professionals are educated in the necessary standards needed to guarantee your heater works properly and can get the job done efficiently.
Keeping up with regular maintenance is essential for any water heater's longevity—especially electrical ones. Professional plumbers must have specialized tools, knowledge of applicable codes, and expertise about safety precautions—ensuring that your heater will last for years to come. Furthermore, if your existing unit is suspected of causing a safety or health issue, hiring a professional electric water heater replacement service should be a priority. Experts in the field can quickly assess any complications before they become more serious and costly.
No matter what type of hot water heater repair you choose, getting the right professional help when replacing it is essential. Without the correct knowledge and tools, improper installation can result in poor performance over time as well as damaging effects on our environment. With this in mind, accurate assessment of your home's needs and upfront preparation by a certified electric water heater replacement service will guarantee proper precautionary steps are taken every step of the way—saving you precious time and money in the long run.
As mentioned previously, electric water heaters offer homeowners various cost savings and environmental benefits over other types of heaters. However, to make sure these advantages are fully realized, the cost and efficiency of an electric water heater must be considered too — something we will examine further in the next section.
Cost and Efficiency of an Electric Water Heater
It is important to consider cost and efficiency when it comes to replacing your electric water heater. On one hand, replacing an electric water heater can be a costly endeavor and may not offer the same savings when compared to other methods of heating water. However, on the other hand, newer models of electric water heaters are often more efficient than older models, leading to energy savings over time. Additionally, newer models offer additional conveniences such as digital insights into energy use, pilot light functionality, and adjustable temperature settings – making them much more convenient than their older counterparts.
When it comes to efficiency, it's important to keep in mind that electric water heaters can vary greatly in terms of energy efficiency. An inefficient electric water heater could cost you significantly more money to run than a model with high efficiency ratings. This means it is important to research products thoroughly before deciding which one is best for you and your home by checking estimates for each model's energy usage. When selecting an electric water heater replacement service, make sure they are offering the right sized tank for your needs and that you understand the warranties associated with each model offered. You might also want to explore the option of tankless water heaters as well.
By taking these considerations into account and properly selecting a new electric water heater through an experienced replacement service, you'll be able to save money on energy costs while also enjoying added convenience. As you explore replacement options, remember that there are many different types of electric water heaters available, each with their own set of advantages and disadvantages. Now that we have discussed the cost, efficiency and estimated energy usage associated with electric water heaters, let's take a closer look at some of the different types of heaters available for consideration.
According to Home Advisor, the average cost to replace an electric water heater ranges from $921.82 – $1,623.99.
According to Home Adviser, the national average cost for a 50-gallon electric water heater installation is 1,187.04.
According to Consumer Reports, the average life expectancy of an electric water heater is eight to 12 years.
Different Types of Electric Water Heaters
Depending on the specific needs of your home, an electric water heater can come in a variety of different types. From tankless systems to whole house models and replacement water heaters, there are various sizes and styles on the market that can provide a range of hot water capacities. The two most common types of electric water heaters are tank-type and tankless systems, which can be connected to gas lines and water lines.
Tank-type water heaters feature a large insulated tank that stores hot water until it's used. This type of system works best if you have high hot water demand; it heats the stored water so it's always ready for use whenever needed. Over time, sediment may build-up, which may require water heater repairs. On the other hand, tankless systems don't store hot water, but rather heat up cold incoming water when necessary at an incredibly fast rate. This type works best for space-saving and ensures continuity in temperature as well as an endless supply of hot water.
Depending on what kind of hot water requirements you have for your home, one type may be better than the other. A great debate is whether conventional storage tanks or tankless systems save the most energy since stovetop heating loses approximately 40% to 50% of its energy compared to direct frequency induction heating which only loses 5%. However, many studies indicate that while whole house tankless systems provide more convenience, they do use more energy than standard storage tanks due to the need to heat incoming cold water before delivery every time.
Electric water heater replacement is an important decision no matter what kind of model you choose. As you compare different options and consider cost and efficiency, be sure to take professional installation into account before making a final choice. Doing so will help ensure your new system operates safely and reliably over its lifetime, saving money through lowered utility costs in the long run.
Professional Installation of an Electric Water Heater
For those looking to replace their electric water heater, the importance of professional installation should not be overlooked. Having a licensed and qualified person, such as an electrician, handle the job ensures that all safety protocols are followed, it is properly grounded and wired, and that all local codes and standards are met. This is particularly important when working with electricity as safety needs to be taken seriously and mistakes can be extremely costly.
So it goes without saying that opting for professional installation of an electric water heater will provide peace of mind and assurance that it was done correctly. Of course, this can come at an additional cost, but in some cases, the added expense could end up saving money in the long run. For instance, faulty wiring leading to damage or injury could easily cost more than having hired a professional from the onset.
With this in mind, there will still be those who choose to go the DIY route; however, it's imperative they educate themselves on the correct procedure and possess expert-level knowledge of electrical systems prior to starting any project.
In any scenario, regardless of who installs the electric water heater, proper maintenance and upkeep is key to ensure its longevity and life expectancy by avoiding unpleasant surprises like floods down the line. With this being said, it is time to turn our focus to exploring the advantages of cordless water heaters which offers greater convenience while remaining cost-efficient.
Advantages of Installing a Cordless Water Heater
The advantages of installing a cordless water heater are numerous. Cordless water heaters allow for more precise control of temperature and water flow, since they do not require electrical wires or cords to be attached to the tank. This means that homeowners do not need to worry about spills or shorts resulting from wet electrical connections or issues like broken thermostats and leaks. Additionally, cordless heaters can be installed in small spaces like closets, bathrooms, and even on walls due to their lack of cords and wires. This setup also makes it easier to perform maintenance tasks like a flush or valve replacement.
Furthermore, many cordless water heaters come with thermostatic controls that can adjust based on internal settings, such as scheduling hot water usage during peak hours to save energy costs. The incorporated thermostat helps to regulate the pressure and temperature accordingly. Many of these models also come with insulated tanks for better temperature retention and efficiency, meaning homeowners can get more hot water out of their investment and enjoy reduced energy bills every month.
Although cordless water heaters offer added convenience and flexibility, it is important to remember that such models still require professional installation in order to ensure safety and proper functioning. Homeowners should work with experienced professionals who have the knowledge and skills needed to properly install a cordless water heater and guarantee the best performance possible. Doing so ensures that any potential pitfalls, like broken valves or leaks, can be avoided while still taking advantage of the many benefits offered by a cordless system.
By taking advantage of professional installation services, homeowners can rest assured that their new cordless water heater will provide optimum performance throughout its lifespan. With experienced technicians handling the job, homeowners can enjoy all the energy-saving and convenience benefits of a cordless water heater without sacrificing safety or quality. Now that you've learned about some of the advantages of installing a cordless water heater, let's move on to exploring cost effective and energy efficient solutions for replacing an electric water heater.
Main Points to Remember
Installing a cordless water heater offers many advantages such as more precise control of temperature and water flow, and thermostatic controls that can adjust usage during peak hours to save energy costs. Professional installation is necessary in order to ensure safety and it guarantees optimum performance throughout the life of the heater. Taking these steps makes it possible to enjoy all the benefits of a cordless water heater without sacrificing safety or quality.
Cost Effective and Energy Efficient Solutions
When it comes to electric water heater replacement, the cost of installation and long-term efficiency are key considerations. Some people might think that investing in a more expensive cordless water heater is beyond their budget. However, when viewed through the lens of energy efficiency—which often translates into lower bills—the costs associated with such an investment can be well worth it.
On the other hand, there are also those who might opt for a less expensive model that doesn't provide the same level of energy efficiency, potentially leading to increased costs in the long run due to issues like valve malfunctions, pressure inconsistencies, and leaks. While they may save initially on installation costs, they could be missing out on costly savings over time. The U.S Department of Energy has estimated that replacing an electric water heater with a new ENERGY STAR® certified model can save homeowners up to $4,000 over its lifetime. Therefore, it is clear that investing in a quality cordless solution makes sense in terms of efficiency and cost effectiveness.
Of course, some may remain unconvinced about the need for a cordless electric water heater replacement service and so care should be taken to ensure the best possible solution is provided. Finding a capable plumbing services provider who can recommend and install the best possible product will help to ensure peace of mind for years to come. It pays to do research – reading reviews and talking with your local professional plumbers should ease any remaining concerns or confusion regarding electric water heater replacements.
Cordless electric water heaters offer plenty of benefits in terms of convenience, safety and cost effectiveness. Nevertheless, great care must be taken when seeking a replacement service that meets these criteria and finding reliable professionals who can provide a suitable solution is essential to achieving successful outcomes every time. With all this in mind, finding expert plumbing services should be your next step on the road to successful electric water heater replacement.
How to Find Professional Plumbing Services
When replacing an electric water heater, it is important to find a professional plumbing services company that can help you get the job done right the first time. There are several ways to identify a reputable plumbing services provider who is qualified and knowledgeable about electric water heater replacement.
The first place to look for professional plumbing services is through referrals from friends and family. Ask around for people you know who have recently had their electric water heaters replaced and inquire about the plumbing services they used. You can also do research online for customer reviews of local plumbers or ask your local home improvement store for recommendations.
The second way to find a professional plumbing service is to check the credentials of the company. Reputable companies should be registered with the state and abide by any applicable licensing criteria, as well as hold any relevant certifications relating to plumbing work. To ensure that your electric water heater installation project meets all necessary safety standards, make sure that the plumbing service you choose hasValid identification which shows they are fully insured should also be provided, as this will provide additional assurance that they can handle your project correctly.
The third way to find a professional plumbing service is by inquiring about their level of experience when it comes to electric water heater replacement projects. It is important to choose a company that has plenty of experience in dealing with similar kinds of projects. That way, you can be sure that the job will be done correctly and efficiently the first time around. Make sure to ask how long they have been dealing with projects like yours, as well as ask for some references from previous customers if possible.
Overall, finding professional plumbing services for an electric water heater replacement does not have to be difficult if you know where to look and what qualities to look out for. Though cost effective and energy efficient solutions are a great consideration, it's equally important to focus on finding reliable and trustworthy professionals who have the skills and experience necessary to complete your project properly. With a little bit of research and consideration, you can find just the right provider who will get the job done right in no time!
Frequently Asked Questions and Answer About Company who can replace or installs water heater replacements service near me Responses to Common Questions
How much does it cost to replace an electric water heater?
The cost of replacing an electric water heater depends on a number of factors, including the type of water heater you have, the size of the unit, the age and condition of your current unit, where it's located (indoors or outdoors), and any additional materials or services you'll need. Generally speaking, a mid-range electric water heater installation typically costs between $900 -$1,500 including labor and materials.
Q1: What is the average lifespan of an electric water heater?
The average lifespan of an electric water heater is 8 to 12 years, depending on the quality and regular maintenance. Factors like water quality, frequency of use, size of the appliance, and local climate can also play a role in how long it will last. Regularly checking the heating elements and anode rod are important things to do as part of your maintenance routine as these two components are prone to failure and can contribute to a shorter lifespan for your water heater. The value of replacing electric water heaters before they fail completely is that you could avoid potential flooding or damage due to pipe corrosion.
Q2: How do I know if my electric water heater needs to be replaced?
The answer to this question largely depends on how old your water heater is and the nature of any potential problems that may be present. If your electric water heater is more than 8-10 years old, then it is likely time for a replacement. Additionally, if you are seeing signs of corrosion, rust, or leaking from your unit, then it is also likely time for a replacement. In order to be sure you get it done right the first time, it is best to consult a professional service technician to inspect the unit and make a recommendation for the most appropriate course of action.
Q3: What factors affect the cost of replacing an electric water heater?
The cost of replacing an electric water heater will depend on several factors. These include the size and type of model being replaced, the difficulty of installation, any additional labor costs, and any necessary hardware or supplies needed to complete the job.
The size and type of electric water heater being replaced plays an important role in determining the cost of replacement. Smaller units may be more economical while large units may require additional labor and materials to install. Additionally, some models may require specialized tools or parts that will increase the cost as well.
The difficulty of installation is another factor that can affect the cost of replacing an electric water heater. If the current unit is difficult to access or requires special tools or skills for removal, this can add to the total cost. Likewise, if the new unit needs extra wiring or plumbing installed, this too can increase the overall price.
Lastly, any additional labor costs and necessary hardware or supplies needed can also contribute to higher costs. When hiring a professional service for electric water heater replacement, they may charge more based on their experience level and expertise in working with electrical units. Additionally, items such as professional-grade tools, replacement parts, tubing, insulation and other materials all factor into the final cost.
Excellent

Based on 5 reviews
Louis was on time and did a great job! 👍
He was very helpful went I believe beyond what he had to do
I'm truely impressed with how quick i got a slot for the same day . The gentleman was punctual and very professional . He knew exactly what the problem was and fixed it at a very affordable price . Before he left my home water heater was working great. I totally recommend their services.
Randi kay Carver

2021-09-29

Went a above and beyond to help me.
Great experience. Installed my water heater very quickly and they did it for a great price. I highly recommend them for any of your home repairs.
We Are open 7 days a week to find someone or a company who can fix or replacing at an affordable price on Saturday, Sunday weekend includes some holidays to serve you if your Water Heater is not working in your home services and business anywhere in West, East, North and South central Florida like Hillsborough County, Apollo Beach, Balm, Bloomingdale, Cheval, Dover, East Lake-Orient Park, Egypt Lake-Leto, Fish Hawk, Gibsonton, Keystone, Lake Magdalene, Mango, Northdale, Palm River-Clair Mel, Pebble Creek, Progress Village, Seffner, Thonotosassa, University, Westchase, Wimauma, Pinellas county, Bardmoor, Bay Pines, Bear Creek, Belleair Beach, Belleair Bluffs, Belleair Shores, Feather Sound, Greenbriar, Gulfport, Harbor Bluffs, Indian Rocks Beach, Indian Shores, Kenneth City, Madeira Beach, North Redington Beach, Oldsmar, Redington Beach, Redington Shores, Ridgecrest, Safety Harbor, South Highpoint, South Pasadena, St Pete Beach, Tierra Verde, Treasure Island, West Pasco County, Aripeka, Bayonet Point, Beacon Square, Connerton, Crystal Springs, Dade City, Dade City North, Elfers, Heritage Pines, Hudson, Jasmine Estates, Key Vista, Lacoochee, Meadow Oaks, Moon Lake, New Port Richey East, Odessa, Pasadena Hills, Port Richey, Quail Ridge, Ridge Manor, River Ridge, San Antonio, Shady Hills, Saint Leo, Trilby, Trinity, Zephyrhills, Zephyrhills North, Zephyrhills South, Zephyrhills West, Orange County, Azalea Park, Bay Hill, Bay Lake, Belle Isle, Bithlo, Christmas, Clarcona, Conway, Doctor Phillips, Eatonville, Edgewood, Fairview Shores, Goldenrod, Gotha, Holden Heights, Horizon West, Hunters Creek, Lake Buena Vista, Lake Butler, Lake Hart, Lake Mary Jane, Lockhart, Maitland, Oak Ridge, Oakland, Orlovista, Paradise Heights, Pine Castle, Rio Pinar, Sky Lake, South Apopka, Southchase, Taft, Tangelo Park, Tangerine, Tildenville, Union Park, University, Wedgefield, Williamsburg, Windermere, Winter Garden, Zellwood, Seminole County, Black Hammock, Chuluota, Fern Park, Forest City, Geneva, Goldenrod, Heathrow, Midway, Wekiwa Springs, Lake County, Est, West, South, North Clermont, Altoona, Astatula, Astor, Eustis, Ferndale, Fruitland Park, Groveland, Howey-in-the-Hills, Lady Lake, Lake Kathryn, Lake Mack-Forest Hills, Leesburg, Lisbon, Mascotte, Minneola, Montverde, Mount Dora, Mount Plymouth, Okahumpka, Paisley, Pine Lakes, Pittman, Silver Lake, Sorrento, Tavares,  The Villages, Umatilla, Yalaha, Osceola County, Buenaventura Lakes, Campbell, Celebration, Four Corners, Yeehaw Junction, Polk County, Alturas, Babson Park, Bradley Junction, Combee Settlement, Crooked Lake Park, Crystal Lake, Cypress Gardens, Dundee, Eagle Lake, Fort Meade, Frostproof, Fuller Heights, Fussels Corner, Grenelefe, Highland City, Highland Park, Hillcrest Heights, Homeland, Inwood, Jan-Phyl Village, Kathleen, Lake Alfred, Lake Hamilton, Lakeland Highlands, Loughman, Medulla, Mulberry, Polk City, Wahneta, Waverly, Willow Oak, Highlands County, Sebring, Avon Park, Lake Placid, Lorida, Venus, 33510, 33511, 33527, 33534, 33540, 33544, 33547, 33548, 33549, 33556, 33558, 33559, 33563, 33565, 33566, 33567, 33569, 33570, 33572, 33573, 33578, 33579, 33584, 33592, 33594, 33596, 33598, 33602, 33603, 33604, 33605, 33606, 33607, 33609, 33610, 33611, 33612, 33613, 33614, 33615, 33616, 33617, 33618, 33619, 33621, 33624, 33625, 33626, 33629, 33634, 33635, 33637, 33647, 33810, 33860, 33503, 33508, 33509, 33530, 33550, 33564, 33568, 33571, 33575, 33583, 33586, 33587, 33595, 33601, 33608, 33622, 33623, 33630, 33631, 33646, 33672, 33673, 33674, 33675, 33677, 33679, 33680, 33681, 33682, 33684, 33685, 33686, 33687, 33688, 33689, 33694, 33620, 33633, 33650, 33655, 33660, 33664, 33701, 33702, 33703, 33704, 33705, 33706, 33707, 33708, 33709, 33710, 33711, 33712, 33713, 33714, 33715, 33716, 33730, 33755, 33756, 33759, 33760, 33761, 33762, 33763, 33764, 33765, 33767, 33770, 33771, 33772, 33773, 33774, 33776, 33777, 33778, 33781, 33782, 33785, 33786, 34677, 34683, 34684, 34685, 34688, 34689, 34695, 34698, 33731, 33732, 33733, 33734, 33736, 33738, 33740, 33741, 33742, 33743, 33744, 33747, 33757, 33758, 33766, 33775, 33779, 33780, 33784, 34660, 34681, 34682, 34697, 33729, 33769, 33523, 33525, 33540, 33541, 33542, 33543, 33544, 33545, 33548, 33549, 33556, 33558, 33559, 33576, 33597, 33809, 33849, 34610, 34637, 34638, 34639, 34652, 34653, 34654, 34655, 34667, 34668, 34669, 34690, 34691, 33524, 33526, 33537, 33539, 33574, 33593, 34656, 34673, 34674, 34679, 34680, 34692, 32703, 32709, 32712, 32751, 32757, 32776, 32789, 32792, 32798, 32801, 32803, 32804, 32805, 32806, 32807, 32808, 32809, 32810, 32811, 32812, 32814, 32817, 32818, 32819, 32820, 32821, 32822, 32824, 32825, 32826, 32827, 32828, 32829, 32831, 32832, 32833, 32834, 32835, 32836, 32837, 32839, 34734, 34747, 34761, 34786, 34787, 32704, 32710, 32768, 32777, 32790, 32793, 32794, 32802, 32830, 32853, 32854, 32855, 32856, 32857, 32858, 32859, 32860, 32861, 32862, 32867, 32868, 32869, 32872, 32877, 32878, 34740, 34760, 34777, 34778, 32816, 32885, 32886, 32887, 32891, 32896, 32897, 32701, 32703, 32707, 32708, 32714, 32730, 32732, 32746, 32750, 32751, 32765, 32766, 32771, 32773, 32779, 32792, 32715, 32716, 32718, 32719, 32733, 32745, 32747, 32752, 32762, 32772, 32791, 32795, 32799, 33896, 33897, 33898, 34739, 34741, 34743, 34744, 34746, 34747, 34758, 34759, 34769, 34771, 34772, 34773, 34972, 33848, 34742, 34745, 34770, 33547, 33801, 33803, 33805, 33809, 33810, 33811, 33812, 33813, 33815, 33823, 33825, 33827, 33830, 33834, 33837, 33838, 33839, 33841, 33843, 33844, 33849, 33850, 33853, 33859, 33860, 33867, 33868, 33880, 33881, 33884, 33896, 33897, 33898, 34714, 34759, 33802, 33804, 33806, 33807, 33820, 33831, 33835, 33836, 33840, 33845, 33846, 33847, 33851, 33854, 33855, 33856, 33858, 33863, 33877, 33882, 33883, 33885, 33888, 32102, 32159, 32163, 32195, 32702, 32720, 32726, 32735, 32736, 32757, 32767, 32776, 32778, 32784, 34705, 34711, 34714, 34715, 34731, 34736, 34737, 34748, 34753, 34756, 34762, 34787, 34788, 34797, 32158, 32727, 32756, 34712, 34713, 34729, 34749, 34755, 34789, 33825, 33852, 33857, 33870, 33872, 33875, 33876, 33960, 34974, 33826, 33862, 33871 and many more location near you.